Open MRI vs Other Scans
You might be more familiar with more traditional approaches to imaging technology, such as X-Rays and CT scans. While these are still widely used and relevant in the medical field, the images obtained via MRI imaging can offer a better contrast than other forms of scans, allowing the treating physician to better differentiate normal from abnormal tissue. It is also worth noting that both CT scans and X-Rays involve the use of ionizing radiation that can potentially be harmful, while MRI scans do not harm the body in any way. This makes them ideal procedures, not just in terms of convenience, but also when it comes to your own well-being.
In order to obtain the images, it is necessary for the patient to lie down flat while being surrounded by the magnets used in the process.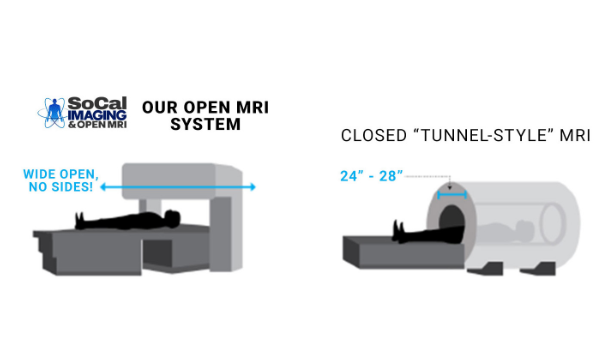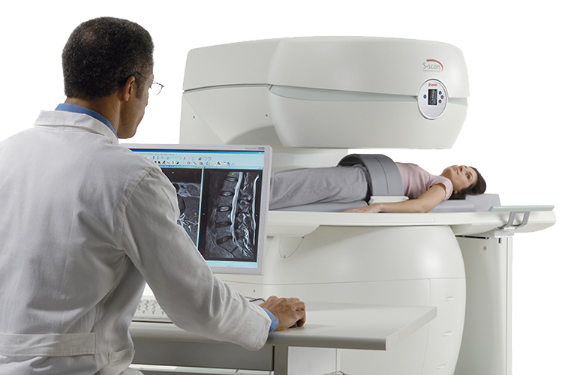 This is an open process, which is a good thing for those who suffer from claustrophobia and other similar conditions who might have trouble with other imaging methods that require the patient to stay in close quarters for semi-extended periods of time. Our priority at SoCal Imaging and Open MRI is to make sure that our patients are always comfortable when approaching any procedures.
MRI of the Upper and Lower Joints
Deleted: Can help doctors discover the cause of any elbow, knee, or other joint pain; swelling, bleeding, or weakness of surrounding tissues; degenerative joint disorders like rheumatoid arthritis; pain caused by fibromyalgia, lupus, tendinitis, gout, or Lyme disease; bone cancer, joint dislocations, ankylosing spondylitis, bursitis
Knee Pain: ACL Injury, Torn Meniscus, Knee Bursitis, Patellar tendinitis, kneecap pain or dislocation, osteoarthritis, build-up of knee joint fluid, inability to support weight on knee joint or a decrease in motion.